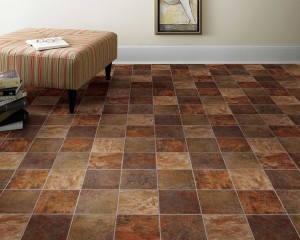 Vinyl can be a great floor for your home, especially for kitchens and bathrooms. It is easy to clean and comes in many different colors and styles. Vinyl also known as linoleum is a strong durable floor. You won't have to worry about accidentally dropping anything on the floor as it can resist many blows. Even though it has a strong resistance remember that no floor is invincible. Every type of flooring needs to be handled and taken care of well.
Vinyl's Superior Strength
Our vinyl flooring has many great features that are made ready to be installed in your home. With different styles and thickness, you can find the right vinyl flooring. Our brands of vinyl are built with strong fiberglass backing. Come check out our many patterns and styles right in our showroom in Hillsboro Oregon. We have the best styles and brands of Vinyl that you'll find as well as the best prices. You won't find any better combination of services and experience in all of Portland. We are experts in this industry as we have installed floors all across the Northwest.
Great For Busy Homes
Vinyl is great for homes that are busy. Not all of us have busy homes but for those of you who do, you can't go wrong with this choice. When it comes to a floor that can withstand a lot of foot traffic, then vinyl is one of the best options. When you have kids running around the house, vinyl flooring can be a great choice for the most heavy traffic areas in the home. This type of flooring works well if you have pets. You also might be someone that likes to invite family and friends over for parties. You won't have to worry much about that. You will find that vinyl will last you a long time if taken care of.
Brands of vinyl that we carry include: Mannington and more. Learn more at our store about our Vinyl floors in Hillsboro, OR.