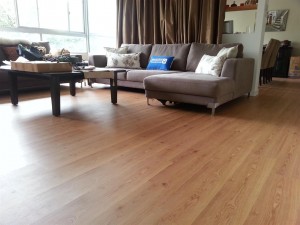 Are you looking for a tough, durable, and long lasting floor that will withstand your pets or your kids running around the house? Laminate is one of the most durable floors, perfect for busy households or heavy traffic areas in your home. It has a strong protective layer to shield from any drops or dings on the floor.
The Perfect Floor
Laminate flooring is one of the most popular floors in today's industry. The reason being is it works so well in many homes and buildings. First off, as mentioned above, it is a strong durable floor that can withstand a lot of traffic. This appeals to many families and companies. Laminate flooring is a floor that will conquer the heavy traffic of a party or the constant flow into an orthodontist office. Many people not only love it for that reason alone, but with today's technology, it can look just like real hardwood. This attracts the eyes of many that possibly can't afford the higher prices of hardwood but want the same look. Putting these two factors together, it makes it a perfect floor that looks great for any home, store, or office building.
Our Showroom
Stop by today to view our selection of Laminate Flooring to view top quality brands like Shaw Laminate floors. Our showroom in Hillsboro, OR has a variety of laminate flooring samples with many different unique styles that will be what you are looking for. As experts in the flooring industry, we will be able to answer any questions that you may have. Come in today and we will show you our products as well as any pricing you may be wondering about. We'll even schedule a time for us to come by and give you a free estimate for your home.