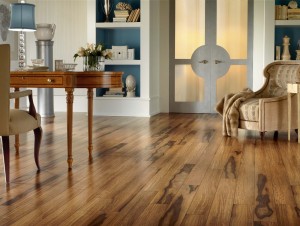 Do you want the beautiful natural look of Engineered Hardwood Flooring? We have it right here at Interiors Plus in Hillsboro. Our showroom has plenty of samples to choose from with many brands and styles, whether you are looking for a more modern look, or even a rustic feel.
Why Choose Engineered Hardwood Flooring?
There are so many reasons to go with engineered hardwood. First off, it just looks natural. It has the more classic look of wood with its groves and knots. It also can be used in areas that aren't best suited for solid hardwood. Engineered wood can be placed in areas that are more damp and that can have potential moisture buildup such as basements. They are built with multiple ply layers that are more resistant to water and protect it from getting through the entire wood plank. The other benefit of engineered hardwood is it can be installed on either concrete slab or a wood sub-floor. There are a few different methods to install it depending on the home. Some methods are by glue, stapling, or floating the floor. You can have the best looking floor in all of Portland. Your newly installed engineered flooring will look great as you invite your friends and family over.